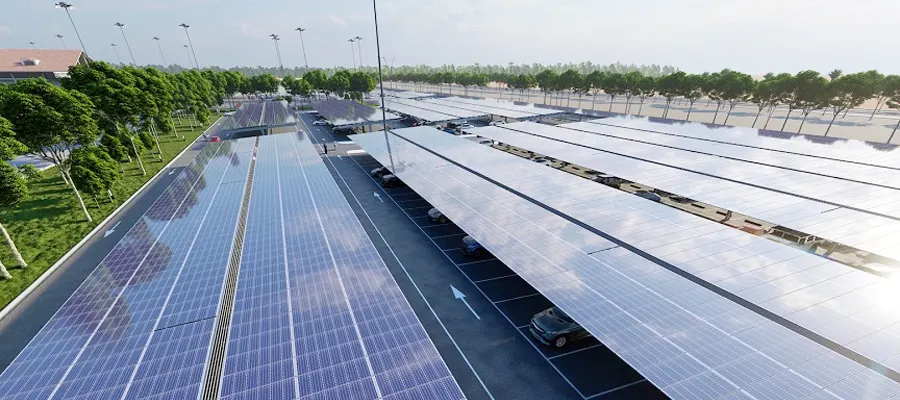 In addition to the widespread use of distributed photovoltaics on rooftops, the construction of solar photovoltaic parking lots is gaining popularity. Utilizing the unused space of the carport to construct a solar carport. In addition to supplying the vehicle with the electricity generated by the solar photovoltaic carport, the excess electricity can be sold to the country, reducing the city's power consumption. These benefits are causing the photovoltaic carport to become a new fashion under the dome.
Mibet closely monitors the development trend of solar photovoltaic brackets and plans solar carport mounting structure solutions for customers. This includes both single and double-row carports.
The mibet aluminum waterproof carport solar mounting system is appropriate for large-scale commercial and residential projects. Parking vehicles are kept safe by high-quality aluminum fittings and professional design. The design can be tailored to meet on-site needs in order to effectively address vehicle damage caused by sun exposure, wind, and snow while also reaping the benefits of photovoltaic power generation.
Residential Solar Carports
Residential carports are an excellent alternative to rooftop PV systems. You can think about them if your roof is not in a good location or if you want to keep the aesthetic look of your roof. Moreover, if you have unused space in your yard, these carports are ideal for protecting your vehicle and generating electricity for your home, just like rooftop PV systems.
They also shield your vehicle from the sun's rays and excessive consumption. While a solar carport shields your vehicle, it also prevents it from overheating, which prevents the vehicle's air conditioning from operating at full capacity. Carports with solar panels are ideal for EV owners because their vehicles can be charged using an EV charger. In turn, the charger is powered by the solar system installed above your residential solar parking lot.
Commercial Solar Carports
Moreover, if installed in public areas, solar carports can provide power to nearby commercial centers and serve as an EV charging stations. You can also make money by allowing others to charge their electric vehicles in your public parking lot.
Waterproof Solar Carport Mounting Structure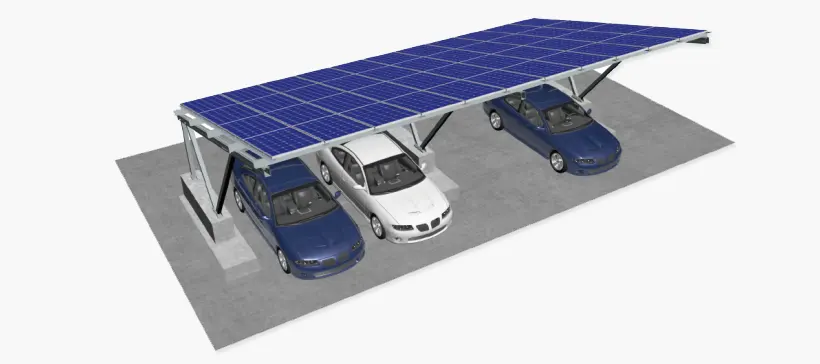 The mibet waterproof solar carport mounting system is intended for both residential and commercial use. Adopts high-strength aluminum, and all components are pre-assembled in the factory before shipping, ensuring the bracket can be installed quickly and save you money on labor.
The waterproof solar carport is designed with waterproof components to guide rainwater out and achieve the goal of rain shelter and water leak prevention. The traditional method of rubberizing is abandoned in favor of a uniquely designed sealing strip to waterproof it, which solves the looseness of the rubber strip as well as water leakage and other issues.
Please click here to learn more about the waterproof carport mounting system.
Waterproof Solar Carport System Features
● Waterproof design: New waterproof structure with water guide trough. The waterproof issue is fixed by embedding the sealing rubber strip above the guide rail.
● Customized solution: We provide custom solutions for your solar carport, including custom-designed mounting systems for any number of cars. There are silver anodized and black anodized products available.
● Easy Installation: Our components are maximally pre-assembled. They do not necessitate any on-site cutting or drilling. Pre-drilled for a quick and easy bolt-together assembly.
● Flexible and adjustable: Adjustable column and base can be adjusted in any direction, greatly reducing construction difficulty.
● Safe and dependable: The IV and double-V designs have been rigorously tested in extreme weather conditions, ensuring safety and dependability.
● Convenient transport: Our loading space is reduced by highly compact structural members and pre-assembled designs.
● Optimum Compatibility: Engineered to be compatible with the majority of commercial-grade PV modules.
Key Components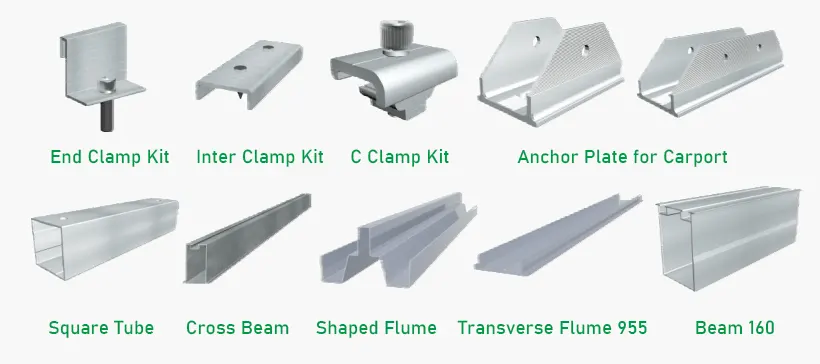 Waterproof Carport Mounting System Video
Why Choose Mibet's Waterproof Solar Carport Racking Systems?
Mibet provides long span waterproof solar carport solutions to maximize the use of large parking lot areas. Long span carports are ideal for double-row parking areas in automobile dealerships, schools, hospitals, retail stores, condominiums, and apartment complexes.
Mibet produces premium solar carport structures that exceed expectations. Our solar carports are made of strong structural steel to withstand any loading conditions that your installation site may encounter.
Our engineer and salesperson will assist you at every step of the way to making your solar power station a reality! We will provide professional advice on module sizes, orientation, inclination angle, and foundation types. Welcome choose Mibet for a waterproof carport system with solar power, whether single or double rows.