Mibet China Hangzhou 800 KW metal rooftop photovoltaic power plant project is officially connected to the grid and put into operation. The project uses Mibet BAPV waterproof solar racking to help Hangzhou's energy transition and further promote the city's energy saving and green development.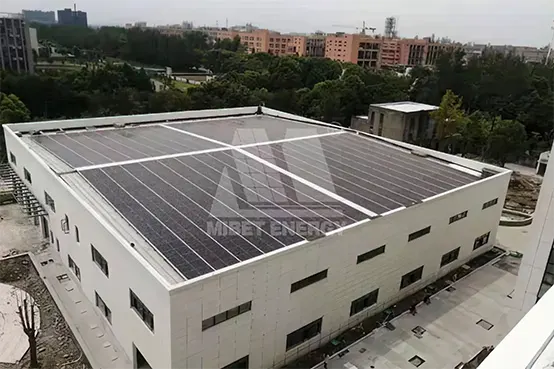 With its strong technical ability, high quality product and excellent service level, the installed capacity of Mibet's BAPV waterproof solar racking system in Zhejiang Province has successfully exceeded 200MW. It has won a high reputation among our customers now.
In the preliminary research work of this project, the customer reported that the roof was damaged and leaking, and requested that the roof be repaired and the photovoltaic support system must be 100% waterproof.
Hangzhou is a rainy city, which means that the project has higher requirements for the structure, construction and technique of the bracket. Combined with local environment and customer needs, MIBET Technical Team recommends that customers use BAPV solar waterproof brackets. With its excellent waterproof performance, corrosion resistance and strong stability, it can meet the entire project perfectly.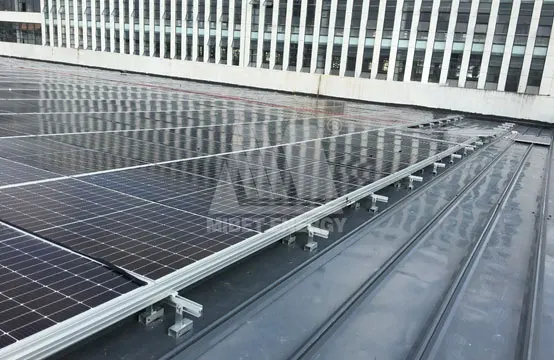 During the project implementation process, Mibet technical team always maintained close communication with the customers and the construction party. This project has high requirements for construction, and improper construction will easily lead to water leakage. In order to effectively eliminate the risk of water leakage, the technical team visited the installation site many times to survey, provided the construction team with site guidance and made a detailed construction guide manual to require the construction team strictly in accordance with the manual.
Mibet provides professional customized design services according to the needs of customers. The waterproof performance of the system is further improved by the water guiding design, which meets the both needs of retaining the original insulation layer without removing the old roofs and 100% waterproofing. According to the local design scheme and accurate structural strength calculation, cost-saving and efficiency-increasing requirements have been achieved.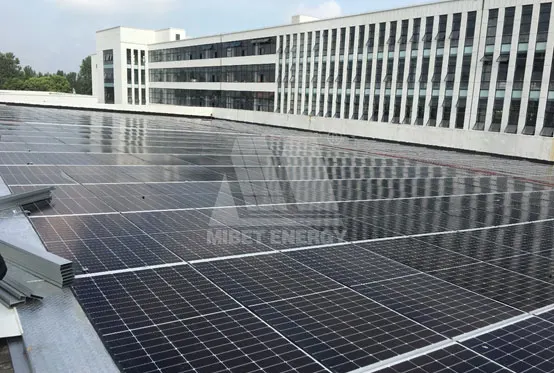 With the stability, reliability and economy of the product, Mibet has completed the supply of more than 10GW of photovoltaic bracket system products worldwide. Mibet will continue to launch safer, efficient photovoltaic products, and fully support the national achievement of "double carbon" strategic goals!